When you're a rebellious girl in a fantasy setting, you're defying certain power systems. If you add to that the fact that you're a queer girl, you end up also going against patriarchal and heteronormative notions of desire.
In this post, brought to you by the Crier's War Blog Tour (thanks to Karina from AfirePages), I'm talking about fantasy YA books where the main characters are both sapphic and rebelling against the systems they were born into. They all go about it in different ways, and I thought it would be interesting to put them under the microscope and analyze what makes them special (in my heart).
---
In the debut novel by Nina Varela, CRIER'S WAR, we follow two girls: Lady Crier and Ayla. Both girls are polar opposites and come from different worlds. In this world, beings named Automae (which are sort of cyborgs) have overthrown the humans who made them and rule over them cruel and mercilessly. 
Lady Crier is the daughter of Sovereign Hesod, ruler of their lands. Crier is betrothed to a man who seeks power and to eradicate humans from existence to prove how superior Automae are. On the other hand, Ayla is a human girl trying to make her way into the Automae's castle in order to exact her revenge after her family was killed and she was left to be raised by rebels. When Ayla saves Crier's life one fateful night, Crier seemingly can't stop thinking about Ayla and decides to take Ayla on as her handmaiden. 
Even as there's political intrigue going on, Crier seeks to be heard by her father and to join the ranks of the governing body. Ayla, however, still plots her revenge, wishing to take out the Sovereign Hesod and Crier's fiancé as her feelings for Crier become muddled in her mind and heart. 
In a way, Crier learns how to be more human in learning how to love, while, Ayla's struggling not to give into her burning desire to have revenge and also trying not to fall for her target. In the process, they come together in moments of silent appreciation and admiration, learning a bit of what makes the other tick, realizing that tenderness in the face of violence can be revolutionary in itself. 
---
If you'd like to read more YA books with sapphic girls and radical tenderness, here are some of my personal favorites:
---
---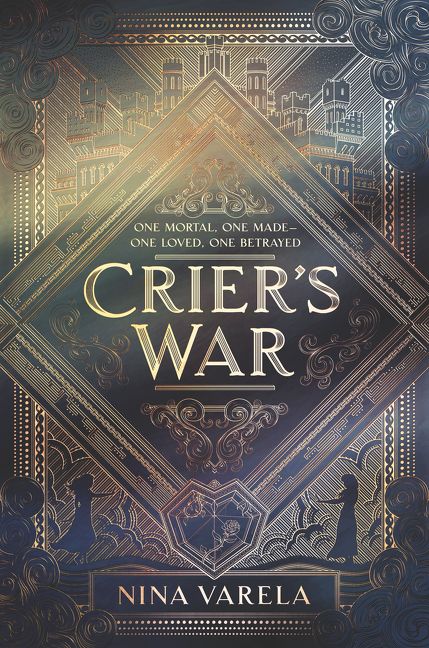 Synopsis:
From debut author Nina Varela comes the first book in an Own Voices, richly imagined epic fantasy about an impossible love between two girls—one human, one Made—whose romance could be the beginning of a revolution.
Perfect for fans of Marie Rutkoski's The Winner's Curse as well as Game of Thrones and Westworld.
After the War of Kinds ravaged the kingdom of Rabu, the Automae, designed to be the playthings of royals, usurped their owners' estates and bent the human race to their will.Now Ayla, a human servant rising in the ranks at the House of the Sovereign, dreams of avenging her family's death…by killing the sovereign's daughter, Lady Crier.
Crier was Made to be beautiful, flawless, and to carry on her father's legacy. But that was before her betrothal to the enigmatic Scyre Kinok, before she discovered her father isn't the benevolent king she once admired, and most importantly, before she met Ayla.
Now, with growing human unrest across the land, pressures from a foreign queen, and an evil new leader on the rise, Crier and Ayla find there may be only one path to love: war.
Author bio:
Nina Varela is a nationally awarded writer of screenplays and short fiction. She was born in New Orleans and raised on a hippie commune in Durham, North Carolina, where she spent most of her childhood playing in the Eno River, building faerie houses from moss and bark, and running barefoot through the woods. These days, Nina lives in Los Angeles with her writing partner and their tiny, ill-behaved dog. She tends to write stories about hard-won love and young people toppling the monarchy/patriarchy/whatever-archy. On a related note, she's queer. On a less related note, she has strong feelings about hushpuppies and loves a good jambalaya. CRIER'S WAR is her first novel.
You can find Nina at any given coffee shop in the greater Los Angeles area, or at http://www.ninavarela.com